DELTA I CCPP Natural Gas Fired CCPP (62 MW, l x GE LM6000 PC SPRINT GTG + l x STG)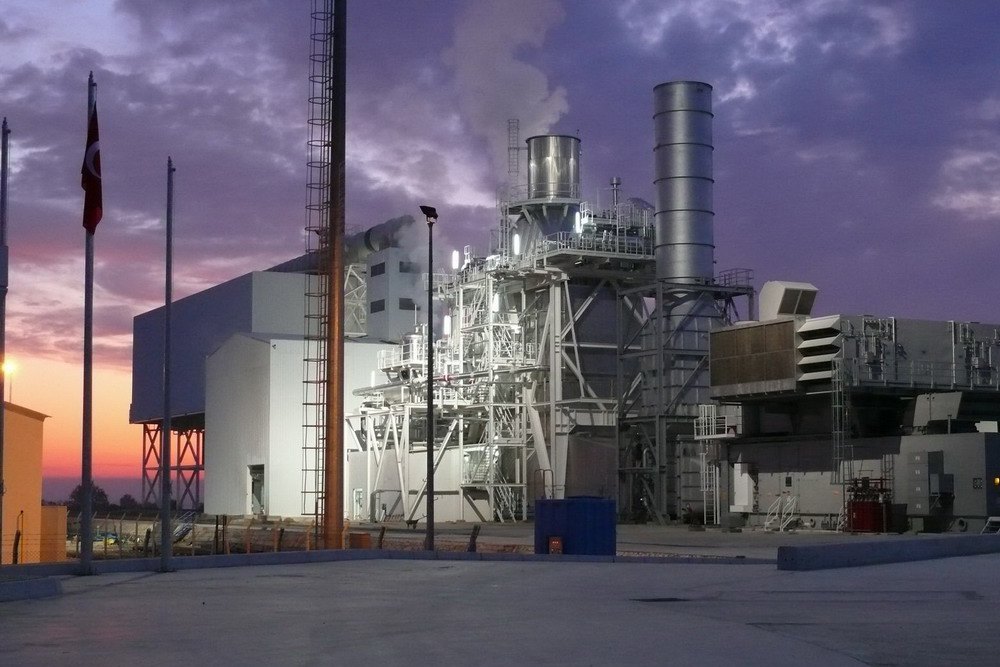 DELTA I CCPP Natural Gas Fired CCPP (62 MW, l x GE LM6000 PC SPRINT GTG + l x STG)
Project Location:
Kırklareli, Turkey
ENPRODE's Responsibilities;
» EPCM (Engineering, Procurement and Construction Management Including HV Switchyard & OHTL)
» Engineering & Design
» Procurement Consulting
» Construction Management
» Start-up and Commissioning
---
ENPRODE Engineering was awarded the Delta Combined Cycle Power Plant project in September 2007. Delta Energy A.S (DELTA) is an Independent Power Producer (IPP) company and a subsidiary of PALMET Group of Companies (www.palmet.com). Delta is the investor of the Combined Cycle Power Plant (CCPP) with an installed capacity of 62 MW. The Plant is located in Lüleburgaz in the Thrace Region of Turkey.
The Power Plant is configured to employ one GE LM6000 PC Sprint Aero-derivative Gas Turbine- Generator (GTG) as the prime mover, one Heat Recovery Steam Generator (HRSG) to generate steam by utilizing the exhaust heat out of the GT to drive a Steam Turbine Generator (STG). Then an Air Cooled Condenser (ACC) condensates the exhaust steam from the ST.

Single fuel system of Natural gas is used as the primary fuel to run the Power Plant to generate power on base load, The generated power at terminals of GTG and STG is 50 Hz and 11.5 kV. Each generator was connected to the National Grid at 154 kV voltage level via two separate Step-up Power Transformers in the Air Insulated Switchyard.

Delta CCPP was designed and engineered to ensure and enable utmost environmental friendly operation. The project was managed and executed by ENPRODE in full compliance with the environmental standards.

DELTA CCPP was put into commercial operation based on the acceptance of ministry dated 18 September 2009, (Simple Cycle was put into operation in April 2009).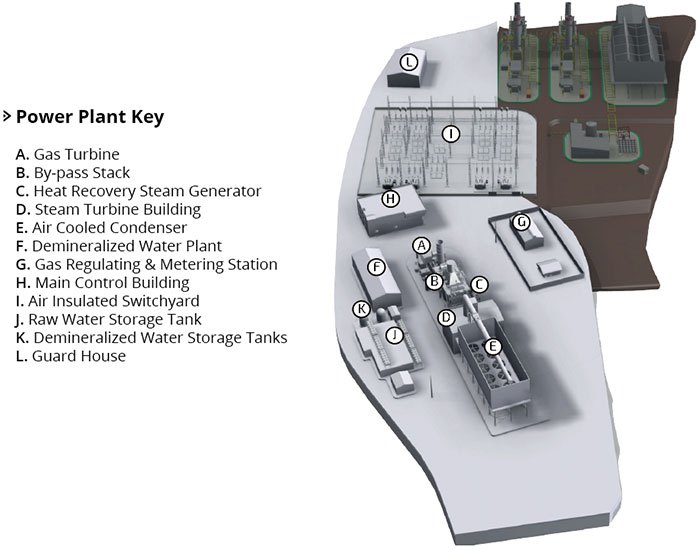 ---
MAIN TECHNICAL PARAMETERS
---

Overall Plant Data

Gross power output
62 MWe
Gross electrical efficiency
53%

---

Emissions

Nox
50 mg/Nm3
Fuel type
Natural gas

---

Gas Turbine

Type
General Electric LM6000 PF Sprint
Site rating
46949 kWe
Exhaust gas flow
474.8 t/h
Exhaust gas temperature
452 °C

---

Heat Recovery Steam Generator

Type
Vertical, Drum Type
Heat exchangers (HP)
Mix Eco, Eco, Boiler, Superheater
Heat exchangers (LP)
Mix Eco, Boiler, Superheater

---

Steam Turbine

Type
Dresser-Rand Frame: RD9MOP
HP steam
58bar / 439°C
LP steam
4 bar / 227°C
ST power output
14 MWe
« Back